Live streaming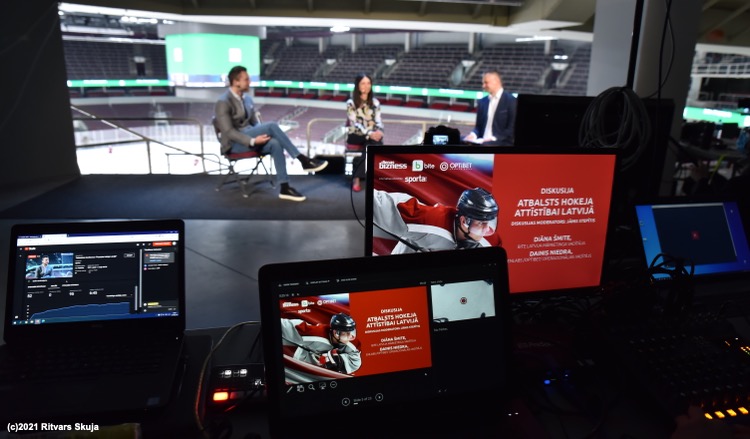 Since 2015, Elemento has been providing high-quality live streams for a variety of events, including conferences, seminars, workshops, and board meetings. We are skilled in broadcasting content on popular platforms like Facebook and YouTube, and we also have the ability to provide streams for other Content Delivery Networks (CDNs). In recent years, we have supported numerous organizations in transitioning their events online or adapting them into a hybrid format. Our expertise extends to managing hundreds of online events on popular conferencing platforms such as Zoom and MS Teams. Based in Latvia, Elemento is your trusted partner in event streaming solutions.
General video streaming service includes

:
Real-time editing and live video broadcast to multiple platforms;
2-4 high quality cameras (for wide and close-up shots, for statistic and dynamic shots);
Remote presentation integration in the live broadcast (e.g. via Zoom or Teams);
Custom backgrounds and overlays, titles, logos, presentations and video clips;
Live video embed code for your website;
High bit-rate 1920x1080p50 recording of the live video;
Summary of viewership statistics after the live broadcast.
Video streaming costs
Hours
Service
1-2 cameras*
/FullHD resolution/
3 – 4 cameras
/FullHD resolution/
2 hours
Streaming
100 – 200 EUR
150 – 250 EUR
4 hours
Streaming
200 – 250 EUR
200 – 300 EUR
6 hours
Streaming
250 – 300 EUR
300 – 400 EUR
8 hours
Streaming
300 – 350 EUR
400 – 500 EUR
Additional options for the live streaming services

:
Microphones, mixing console, loudspeakers, local sound mix engineer;
Additional lighting for the room or stage;
Projection of live edited video stream on local screens;
Additional graphic overlays for the broadcast (e.g., audience questions, polling results);
Streaming to social networks Facebook, YouTube or CDN of your choice;
Streaming to online seminar platforms using Zoom, Teams or Webex;
Translation support and bilingual streaming e.g., English / Latvian;
Post-event video editing of presentations and/or highlights;
Photo services for the event;
Live video replay after the event.
Note:
Prices may vary depending on the nature of your event and the requirements;
Discounts of 10-20% – for regular or repeated similar events;
For further information please contact elemento.dvd@gmail.com
Video streaming example
Some exmples are available on Elemento YouTube channel
Elemento offers premium live streaming for events such as conferences, seminars, workshops, and board meetings.