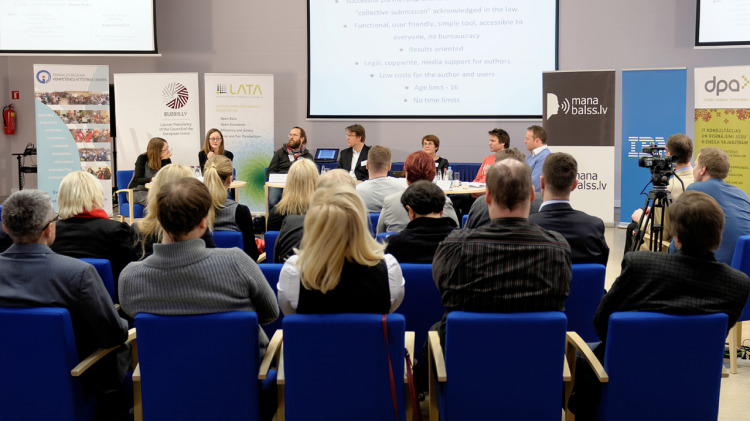 Konferences "Atvērtā Eiropa: Atvērtie dati atvērtai sabiedrībai" Video tiešraides fragments 18.02.2015.
"Open Europe: Open Data for Open Society" live
Society needs the data to be able to actively participate in the economical and political processes in their country.  The Open Europe: Open Data for Open Society conference aims to exchange of knowledge and ideas leading to open society development.The event was organised by the Latvian Open Technology Association (LATA) in collaboration with the Centre for Public Policy PROVIDUS and the public participation platform ManaBalss.lv.
Open data, February 18, 2015
Moderator: Aigars Jaundālders (Latvia), Member of Board of Latvian Open Technology Association
Experts: Nuria de Lama (Spain), Arnis Daugulis (Latvia), Baiba Kaškina (Latvia), Karel Charvat (Czech Republic), Rosana Lemut-Strle (Slovenia), Dr. Georg Hittmair (Austria), Freyja Van den Boom (Belgium), Jaak Vlasveld (Netherlands), Christiana Maria Mauro (Hungary)
13:45 – 14:45 Open Data: Introduction of Experts and Short Presentations by Experts
Aigars Jaundālders – Introduction to Open Data Expert Panel Discussion
Arnis Daugulis – Open Data for Economic Growth
Dr. Georg Hittmair – Charging for Public Sector Information according to the directive 2013/37/EC
Nuria de Lama – FIWARE: Future Internet Opportunities using Open Data
Karel Charvat – Open Data Introduction
Freyja van den Boom – Open data
Jaak Vlasveld – Convergence of ICT infrastructures and energy infrastructures
Christiana Maria Mauro – Whose 'Open Society': Zuckerberg's or Popper's?
Baiba Kaškina – Open data and security
14:45 – 15:35 Open Data: Questions for Experts by Moderator, Expert Closing Remarks, Question-and-Answer Section
15:35 – 15:45 Open Data: Closing and Conclusions by Moderator
15:45 – 16:00 Closing and Conclusions
Live streaming by: Elemento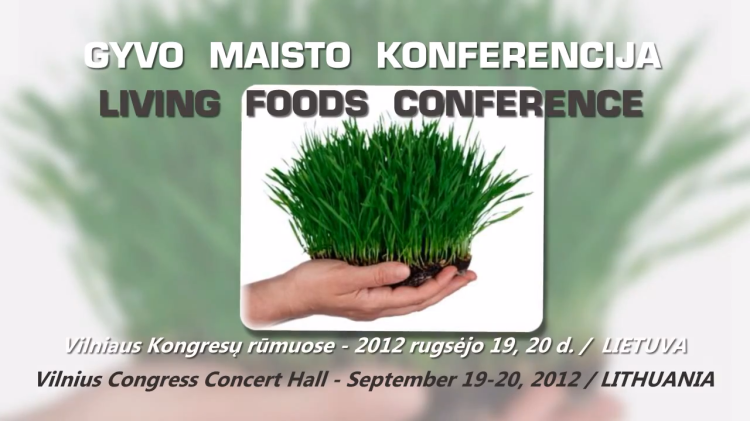 Elemento filmēja šo "Living Foods Conference" 2012.gada septembrī ar divām kamerām un vēlāk nodrošināja arī oriģinālo prezentāciju slaidu iemontēšanu videomateriālā sinhroni runātāja demonstrācijas tempā. Nodrošināja arī titru, attēlu, grafiku un citu audiovizuālo materiālu integrāciju konferences videomateriālā.
Konferences materiāls tika sagatavots Angļu un Lietuviešu valodās (ar sinhrono tulkojumu). Lielāko daļu konferences videomateriāla pie organizatoriem Annas Vigmores fonda tīmekļa lapā.
ARVE Error: Mode: lazyload not available (ARVE Pro not active?), switching to normal mode